Contact – Bio
Ms Natasha Cloutier/Oh La La
Orteliusstraat 299-1
1056 NX Amsterdam
The Netherlands
Tel.: +31 (0)6 2122 5766
E-mail: natasha@oh-la-la.nl
www.oh-la-la.nl
Skype & Twitter: natashenka007
OLL on Twitter: ohlalanl
Facebook fan page, DJ profile at djguide.nl
English BIO (PDF), Dutch BIO (PDF), French BIO (PDF)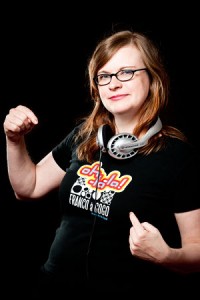 DJ name: DJ Natashka (in real life, Natasha Cloutier)
Style: French from the 50s, 60s, 70s, 80s and 90s, jazz and disco.
Favourites: Gall, Dutronc, Gainsbourg, Nougaro, Distel, Boule Noire, Jean Leloup, Dany Brillant, Les Rita Mistouko, Plastic Bertrand and countless others.
Influences: My audience, other cool DJs and friendly record shop owners.
Misc: I also play Afrobeat and special sport-related events.
- In the late 1980s, I studied sound recording In Montréal, Canada.
- Freelance sound technician for live concerts and DJing in bars.
- 1990-93 on air DJ in French and English for several student and cable radio stations.
- 2012-today on air co-host and technician for English Breakfast radio, Amsterdam.
Past locations played:
Amsterdam: De Nieuwe Anita, Winston, Sappho (closed), Canvas, Edel, Maison Descartes, Sugar Factory, Café Pakhuis Wilhelmina, Flexbar (closed), Pacific Parc, Paradiso (big and small hall), Odeon, Festina Lente, Club 8, Café Kobalt, Grand Café Fossa, Pont 13, Restaurant Cafe Graves, Noorderlicht Café, Code 21, Bar Lempicka, 't Blaauwhooft, Café Kuijper, Blijburg, Het Concertgebouw, Hotel Americain, OCCII, Club Zest, De Meevaart, Sporthallen Zuid, Tennis Club Kattenlaan.
Amstelveen: Cobra Museum, P60.
North Holland
Dance Valley – Spaarnwoude, Museum Beelden aan Zee – The Hague, Het Broker Huis – Broek in Waterland, AMVO – Volendam.
South Holland
Kunstmanifestatie, Trinitatiskapel – Dordrecht. Spijkenisse Festival – Spijkenisse. De Vliethoeve – Bodegraven.
Utrecht
db's – Utrecht. Brothers – Bunnik. Barracks hall – Austerlitz, Julianapark – Utrecht.
Groningen
Images Café – Groningen.
Gelderland
LUX – Nijmegen, Kookplaats – Arnhem.
Limburg
Nieuwe Nor, Cultuurhuis – Heerlen; Bonnenfantenmuseum, Cafe Zondag – Maastricht
Zeeland
Kerkplein – Zierikzee.
France
Le Bizz' art, Le Gast and La Villette Enchantée – Paris.
Belgium
Bar du Matin, Espace 53 and Halles St Géry – Brussels, Cafe Modern – Teuven, Cinéma Sauvernière – Liège. Cocteauzaal – Ghent.
Germany
Muffathalle – Munich, De Roter Salon – Berlin.
UK
Fulham Palace – London.
Canada
Sala Rossa – Montréal, On Grande-Allée boulevard outdoors, Québec City.
Last update: 23 September 2016