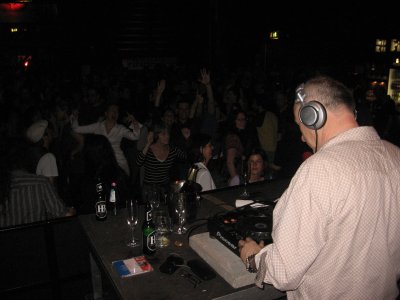 DJ Thomas Bohnet of Munich was spinning his Tour de France compilation tunes and I was happy to join ihim on the main stage. We had champagne, too! It was great fun. Les Princes Chameaux from France really got the live show going, while local duo Tuo opened the evening for all their fans. By the time I got to hear DJs Jean-Yves Diss and Mikael Bourdon in the Ampère room and their mash-ups and remixes, I noticed we had the same taste in music. They kept the party going past 4:30 am.
The food catering was done by a local French restaurant brought to the Muffathalle and after eating their food twice (last year as well), I can tell you that Toby, organiser from Club Zwei is very well connected.
A big hello to all the new people I met, French and German. It was great to see my German friends and I was lucky enough to have some Dutch friends join me as well!
Tags: DJ Natashka, Jean-Yves Diss, Mikael Bourdon, Muffathalle, Munich, Thomas Bohnet