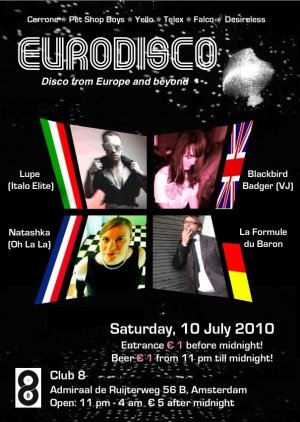 Disco from Europe and beyond! This is the first edition of what should become a monthly affair at Amsterdam's Club 8.
Yes, I will be holding up the French disco end!
EURODISCO
Saturday, 10 July 2010
Club 8, Admiraal de Ruijterweg 56 B, Amsterdam
Plattergrond: http://tinyurl.com/3a3jt6e
From 11 pm to 4 am: ?,? 5
*Entrance ?,? 1 before midnight*
*Beer ?,? 1 from 11 pm to midnight*
DJs:
Lupe Lambers (Italo Disco)
Natashka (me!)
La Formule du Baron
VJ Blackbird Badger
Join the Eurodisco Facebook group!
Tags: Blackbird Badger, Club 8, Eurodisco, French disco, La Formule du Baron, Lupe Lambers