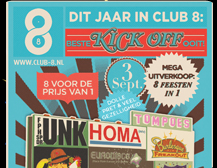 Eight parties in one! Eurodisco will be represented by yours and I plan to wear my rollerskates again and skate!
Friday 3 September 2010
Club 8, Admiraal de Ruijterweg 56 B, Amsterdam
How to get there
From 11 pm to 4 am: ?,? 7,50, ?,? 5,00 with coupon floating around town.
Join the Eurodisco Facebook group.
Tags: Amsterdam, Club 8, Eurodisco