First, this rare photo of famous Dutch singer Liesbeth List singing with Serge Gainsbourg (thanks Guuzbourg!). Then, we have winter as the main theme running through Podcast No. 31, although sparingly since most of you get bombarded with way too much of this normally. I decided to keep it low key, retro, snowy, with a hint of Christmas. Think of these songs like gifts, one more relaxed for the parents, one for grandma, one for the boisterous kids, etc. Just use your imagination!
Playlist
Liesbeth List – L'anamour
Michel Polnareff – La mouche
Claude Dubois – Sullivan
Ronnie Bird – SOS mesdemoiselles
Ginette Reno – Père Noël arrive ce soir
Danièle et Michèle – L'hiver
And I found a picture of me back in Brossard, Québec, when I was much smaller and apparently already colour coordinated.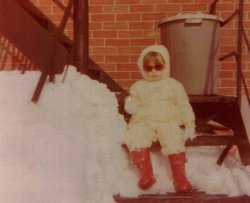 Tags: Claude Dubois, Danièle et Michèle, Ginette Reno, Liesbeth List, Michel Polnareff, Ronnie Bird, Serge Gainsbourg