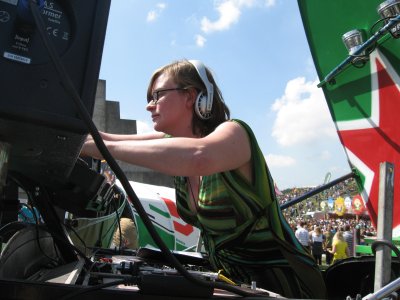 Cool and scary at the same time, I DJed at Dance Valley 2009 for many reasons. It was so unexpected of me to do so, which is why I said yes as soon as I was asked by the charming Jasper who owns the DJ Piaggio, a three-wheel Italian car that was painted in the colours of that big Dutch beer brand we all know for the occasion. Our setup was surprisingly loud and near the main stage, so we had tons of people check us out first.
The second reason is that I could take one of my best girlfriends for free, and she drove me there, VIP style. That was so much fun!
All the types of dance music, from hardstyle to electro was being played at an acceptable volume. You could listen to all kinds of stuff while sitting on a hill overlooking nature sipping a beverage. Even the food I had was good.
And another reason was being the odd person out: I was playing French techno, hard remixes, 80s, music by friends Minimatic and Laurent & Lewis and I got away with oh so much. The shock factor at playing music with lyrics (I didn't hear ANYTHING with lyrics the entire day) was enough to make me feel like I kicked ass.
Everything I played was sped up at least 20% and I also played vinyl. The fact that I was a woman got a lot of attention, including a producer's business card.
Tags: Dance Valley, Laurent & Lewis, Minimatic