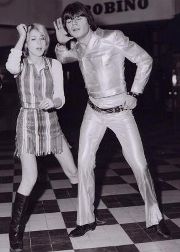 On Saturday 29 February, Oh La La is back to school at De Nieuwe Anita, Amsterdam to crank out French music à gogo!
Doors: 8 pm, 6 euro
Line up:
DJs Natashka and strictly vinyl set in the foyer by La Formule du Baron
Special guest: Minimatic' (Cognac, France)
LIVE: one-woman show Fusée Dorée (new tunes!)
VJ Blackbird Badger
Tarot by Anneriek (House of Tanuki)
Food, cocktails and lovely people!
READ MORE Oh La La Newsletter No. 43 – 23 September 2012
Minimatic at Sexy French Sounds from Natasha Cloutier on Vimeo.
Tags: Amsterdam, Anneriek, De Nieuwe Anita, La Formule du Baron, Minimatic, VJ Blackbird Badger