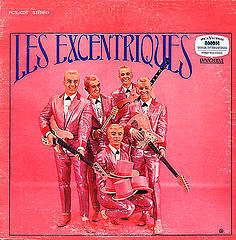 Life through rose coloured glasses may have looked like this in the 1960s. Podcast No. 12 starts off with Les Excentriques covering the Beach Boys and Nicole Paquin telling us about marrying a monster, Halloween style. French choir boy rockers Les Poppys sing their protest song, Natacha Snitkine plays phone pranks and Rita Cadillac sings about the good old days. Last but not least, a tribute to the Beatles in French by Les Fizz.
Playlist
Les Excentriques – Fume, fume, fume
Nicole Paquin – Mon mari, c'est Frankenstein
Les Poppys – Non, non rien n'a changé
Natacha Snitkine – Le jeu du téléphone
Rita Cadillac – Souvenirs, souvenirs
Les Fizz – Si tu fais ça
Subscribe to the Radio Oh la la podcast at Feedburner or using iTunes.