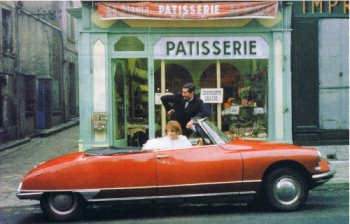 People take anything when there's nothing
They get that way,
Just like that.
What they need is a little darling
A hermit or, a big star.
Some plastic or rubber thingamajig,
Some little thing, some kind of a toy.
That burns up like tinder does.
People are crazed, the times are a haze,
The times are a haze, and people are crazed.
Download Podcast No. 13 and sing along in English to my translation of the first verse of Jacques Dutronc's "Les gens sont fous, les temps sont flous". No really, it works!
Next, there's lesser known Ronnie Bird admitting to stalking, followed by Tiny Yong who tries to resist a sweet talker. Nino Ferrer gets funky with food and Ivy does Gainsbourg. In the end, Colette Renard takes it away with a little bit of 'java'.
Playlist
Jacques Dutronc – Les gens sont fous, les temps sont flous
Ronnie Bird – Où va-t-elle ?
Tiny Young – Tu es le roi des menteurs
Nino Ferrer – Les cornichons
Ivy – L'anamour
Colette Renard – Marseille, tais-toi Marseille
Subscribe to the Radio Oh la la podcast at Feedburner or using iTunes.
Come and get friendly on the Radio Oh la la MySpace page.
2 Responses to "Podcast No. 13 – Beats and treats"
Lushy says:
November 27th, 2006 at 11:29 pm

Thank you agian for a rockin' site.
Carry on *kiss-kiss*

La Catherine says:
May 14th, 2007 at 5:49 pm

Natasha,

This site is the shit. It's a brilliant find for a francophile du Nouveau Mexique. Thanks for your crate digging…your podcasts are fantastic.