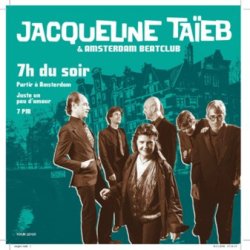 For anyone who knows, likes and saw one or both of Jacqueline Taïeb's shows in Amsterdam this year, and for anyone who loves the Amsterdam Beat Club, here's your chance to show your appreciation! Vote for the new EP by Jacqueline and the Amsterdam Beat Club so they can win a very nice prize, play a groovy Paris gig, and who knows what else!
Here's how to vote:
Follow this link and on the right-hand side, click the green button that says "voter pour lui".
One Response to "Vote for Jacqueline Taïeb!"
DansMonCafe says:
January 1st, 2007 at 9:18 pm

Is it too late to vote?