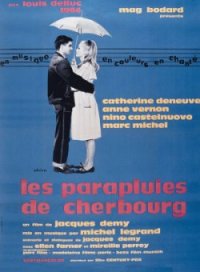 It's time for a theme podcast! Podcast No. 15 features some nice French cinema music that makes you want to know more about the films they come from. Michel Magne gets two chances with spy music from OSS 117 and Fantomas. Then, there's Georges Garvarentz on the soft drugs and Michel Legrand with some of his groovy strings. To top if off, a soft-spoken classic by Pierre Barouh from A man and a woman and Philippe Clay from the film Barocco. I realise the poster is misleading, but I do recommened Les Parapluies de Cherbourg to anyone who enjoys heavy colour contrasts, a good tear jerker and a young Catherine Deneuve.
Playlist
Michel Magne – Bagarre à Bangkok
Georges Garvarentz – Haschisch Party
Michel Legrand – Come Ray and Come Charles
Pierre Barouh – Samba Saravah
Michel Magne – Thème de Fantomas
Philippe Clay – On se voit ce soir
Subscribe to the Radio Oh la la podcast at Feedburner or using iTunes.
Come and get friendly on the Radio Oh la la MySpace page.