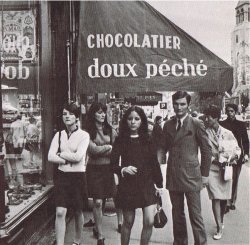 What a treat! Cute and fun yéyé girls from then and now, and a guy to tie, er, twist it up in the end. Podcast No. 19 has six groovy numbers ready to go. Chantal Goya is not sure about a guy, while Camille is very sure about him. Fabienne Delsol does France Gall her way and Jocelyne hums along merrily. Near the end, things go live with Vanessa Paradis and our man Richard Anthony twists his way out of girl trouble.
Playlist
Chantal Goya – Tu m'as trop menti
Camille – Opération charme
Fabienne Delsol – Laisse tomber les filles
Jocelyne – La la la la la
Vanessa Paradis – Les Cactus
Richard Anthony – J'irai twister le blues
Subscribe to the Radio Oh la la podcast at Feedburner or using iTunes.
Come and be my friend at the Radio Oh la la MySpace page.
5 Responses to "Podcast No. 19 – Girls, chicks and a guy"