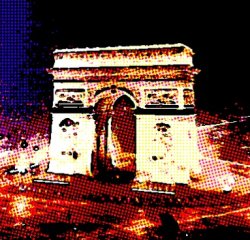 Podcast No. 20 starts off psychedelic with some Richard de Bordeaux & Daniel Beretta and Les Papyvores, moves in a female direction with Sophie Mansart and Christine Pilzer, and finishes up in jazz lounge with Les Double Six and Lucky Blondo.
I want to know: are there other James Bond themes in French? I own Bob Asklöf 'Bons baisers de Russie' (From Russian with Love)(see Podcast No. 2), Mireille Mathieu 'Les yeux de l'amour' ('The Look of Love', original Casino Royale) and Lucky Blondo 'Tu vivras deux fois' ('You Only Live Twice'). I already know about Michel Legrand's music to 'Never Say Never Again' and Isabelle Aubret doing 'Savez-vous ce qu'il faut au sapin de Noël ?' (that Christmas ditty with children singing in 'On Her Majesty's Secret Service'). If you know anything, please tell me by commenting here.
Playlist
Richard de Bordeaux & Daniel Beretta – La drogue
Les Papyvores – Le papyvore
Sophie Mansart – Au secours, aidez-moi
Christine Pilzer – Mon p'tit homme spatial
Les Double Six – Tout en dodelinant
Lucky Blondo – Tu vivras deux fois
Subscribe to the Radio Oh la la podcast at Feedburner or using iTunes.
Come and be my friend at the Radio Oh la la MySpace page.
3 Responses to "Podcast No. 20 – Psychedelic with a jazz chaser"
birkin moi says:
May 12th, 2007 at 12:30 am

very nice Natascha, great podcast. You work is amazing and the music you choose is very cool

Javier

Administrator says:
May 13th, 2007 at 1:55 pm

Gracias!

Leo R. says:
August 11th, 2008 at 11:26 pm

To answer your question on James Bond music: yes, there is also "Goldfinger" sung by John William. It's on the cd Twist Again Au Ciné.
http://www.soundtrackcollector.com/catalog/soundtrackdetail.php?movieid=53875
I wouldn't be surprised if there was a French version of "Thunderball" as well; I already found German, Italian, Dutch and Spanish versions.