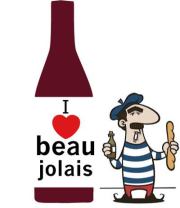 On Thursday November 15, come and join our Beaujolais party with cheese, wine (Beaujolais, but also Mâcon) and French music at À Table, Kinkerstraat 10, Amsterdam.
You can practice your French, dress up, pop in for happy hour and have a great time!
BOOKING is obligatory: email: atableamsterdam@gmail.com. There is only room for 25 people!
Or Join the event on Facebook and tell us you're coming.
Get in the mood with L'apéro by Fatal Mambo
Tags: Beaujolais