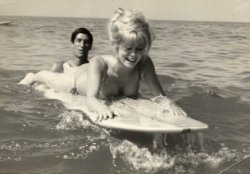 It's bikini time again in St. Tropez, with a young Catherine Deneuve riding the waves!
Stuck in that nasty, stuffy Paris traffic jam? Go franco à gogo with Podcast No. 22! Les Parisiennes want to get out of town like the rest of Paris, down to the breezy Côte d'Azur, while Gillian Hills uses her charms to hitch a ride. Once we get there, suave regular Sacha Distel even scores us a room. Then sexy but shy Dalida is afraid to walk around in her bikini, but eventually does 'cause everybody else is doing it. France Gall falls for some Scandinavian guitar-playing cutie and Marie Laforêt sings that sad yet beautiful song by the camp fire on the beach when the sun goes down.
Bonus! Off the new and modern Maison Close compilation, a real party number by Cucumber called 'Boogaloo Au One Two Two'.
Playlist
Les Parisiennes – Ce soir à St-Tropez
Gillan Hills – Cha cha stop
Sacha Distel – Plage à St-Tropez
Dalida – Itsi bitsi, petit bikini
France Gall- Christiansen
Marie Laforêt – La Plage
Cucumber – Boogaloo au One Two Two
Subscribe to the Radio Oh la la podcast at Feedburner or using iTunes. Radio Oh la la also has a MySpace page.