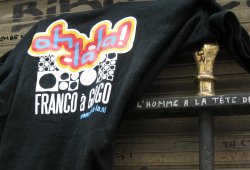 Just in time for the weekend, the Radio Oh la la web radio has had an injection of HOURS of new tunes!
What's with the picture? It was taken at the late Serge Gainsbourg's house in Paris. The house is still closed to the public and the story is that daughter Charlotte Gainsbourg wants to turn it into a museum. I was there early in the morning when a French couple were taking pictures. I took pictures of them and they of me, and just this week, the man, a major Gainsbourg collector, sent me some pictures of what he owns (like 800 different Gainsbourg-related albums!).
More on this in a future podcast!