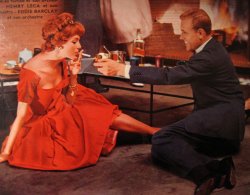 It's time to cosy up by the fire, sit on the deep pile carpet and thrown on some records! Podcast No. 24 was inspired by this album cover, which I found unexpectedly at a small flea market in Amsterdam that had no reason to even have any records. For the rest of the story and more, you'll have to listen to the podcast.
Les Surfs announce the end of summer, Eartha Kitt manages to tell you want kind of man she wants, as she does in almost every song, Colette Renard sings an entire dirty song, Nat King Cole tests his French skills phonetically yet again, Sheila makes you a bit sad and Jacques Dutronc tells you why he likes girls.
Playlist
Les Surfs – Quand vient la fin de l'été
Eartha Kitt – C'est si bon
Colette Renard – Les nuits d'une demoiselle
Nat King Cole – Les feuilles mortes
Sheila – Bang bang
Jacques Dutronc – J'aime les filles
Subscribe to the Radio Oh la la podcast at Feedburner or using iTunes.
Tags: Podcast
3 Responses to "Podcast No. 24 – Whisky, women and song"
Rebecca says:
September 28th, 2007 at 6:57 pm

Another fun podcast! If you ever have time to ad it to the podcast posts, it would be great to see the record names that the songs come from. Sometimes I think, wow, that would be a great record to have, but some of the older songs are harder to track down to see what album they come from.

brooks says:
October 14th, 2007 at 10:27 am

Rebecca –

you may already know of it, but there is a helpful website for tracking down EP listings at http://www.retrojeunesse60.com. it is by no means complete, but it often comes in handy for me.

Administrator says:
October 14th, 2007 at 1:57 pm

And that site is in my links list :) – it's a French Canadian site. Cheers, Natasha