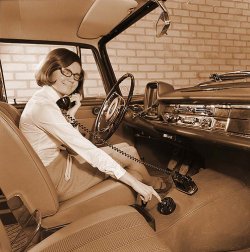 Happy New Year to all! Thanks to everyone around the world for their kind words, support, ideas and listening to the web radio and the podcasts. It's just lovely.
Another podcast should be coming your way soon with some pretty spacy French music I found and then there's some French parties in Amsterdam brewing for February and April with the charming Thomas Bohnet from Tour de France, Munich (again that German connection) and the just as charming Thomas Deligny from the Boutique Chic label in Paris. More music, energy, twisting and shouting from me soon, but first I need to get back into the swing of things after some excellent holidays.
Tags: car phone, French, Munich, Paris, parties
One Response to "Happy Hip New Year!"
katrintje says:
January 2nd, 2008 at 4:37 pm

Fabuleuse la photo !
Bonne année à toute l'équipe !
Créativité à tous les étages !
Amusez vous bien !