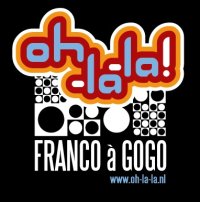 We are off to a good start! From as far away as Nottingham, England tag team Nuno and Manuela guessed all the songs. Tip: they said the first one was the most difficult. Check out their Portugese blog full of retro cinema, music and more at bitlogger.blogspot.com. I'd also like to share their kind words:
First of all thank you for your brilliant podcast! We are always craving for the next one, it's our favorite music podcast and the best thing around for 60's french sounds that we really like but that we normally don't find here around Nottingham… it's our piece of heaven everytime a new one is available.
You guys are great, thanks!
Who will be the next winners? Stay tuned!
Tags: contest, England, Podcast, T-shirt
One Response to "First Oh la la podcast contest winners"
molder says:
February 9th, 2008 at 7:23 pm

Hoola Amigos, siempre me gusto el idioma frances , se algo de frances y me encanta escuchar canciones en frances del recuerdo, porque son exelentes para practicar el idioma, gracias por todo..Molder