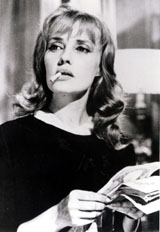 "Oh Oh quelle histoire," actress and singer Jeanne Moreau sung, trying to pretend she didn't like the unsubtle advances of some Brazilian man whose name she couldn't remember. More of this great seductress' music has been added to Radio Oh La La, as well as film music from Charles Aznavour's 'doppelganger' Georges Gavarentz, Francis Lai and Michel Legrand.
So many French actors and actresses were also singers, some making the grade, others more or less tolerated because of their acting success and looks. They include Brigitte Bardot, Catherine Deneuve, and Anna Karina. Dame Jeanne was very good at both.
The FAQ and archive are still skeletons, but not for long!