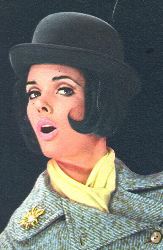 Podcast No. 5 of Radio Oh la la features music by France Gall, Magali Noël, Dick Rivers, Johnny Hallyday, Charles Aznavour and Jeanne Moreau.
Playlist
France Gall – Le cœur qui jazze
Magali Noël – Fais-moi mal Johnny
Dick Rivers – Le vicomte
Johnny Hallyday – Je cherche une fille
Charles Aznavour – Les plaisirs démodés
Jeanne Moreau – Juste un fil de soie
Subscribe to the Radio Oh la la podcast at Feedburner or using iTunes.
In keeping up with the hipsters, Radio Oh la la also has a MySpace page.
Have a suitable podcast promo? Send me an e-mail and lets talk turkey! I'm still working on mine.