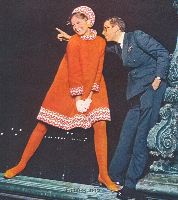 Check it out! Podcast No. 6 of Radio Oh la la features music by Richard Anthony, Les Double Six, Czerkinsky, Jane Birkin, Dario Moreno and Minimatic.
Playlist
Richard Anthony – Nouvelle vague
Les Double Six – La complainte du bagnard
Czerkinsky – Natacha
Jane Birkin – Jane B.
Dario Moreno – Si tu vas à Rio
Minimatic – La raie o milieu
A track by Minimatic and more will be coming out on the new Boutique Chic – Bikini Party EP sometime in July.
Subscribe to the Radio Oh la la podcast at Feedburner or using iTunes.