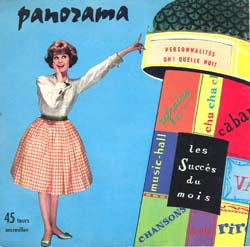 A little bit of this and a little bit of that and there you have Podcast No. 8! First, we start off with some Brazilian by Robert Demontigny and then get into some familiar territory with Les Chats Sauvages. Next, a couple of yéyé chicks, Cléo and Elsa, and then some Jack Ary and Isabelle Aubret.
Playlist
Robert Demontigny – Eso Beso
Les Chats Sauvages – Est-ce que tu le sais ?
Cléo – Parti pris
Elsa – C'est sérieux
Jack Ary – Les tomates
Isabelle Aubret – Un premier amour
Subscribe to the Radio Oh la la podcast at Feedburner or using iTunes.
One Response to "Podcast No. 8 – Odds & Ends"
vega says:
August 1st, 2006 at 2:03 am

Loving exploring your links – some wonderful things to be discovered :)