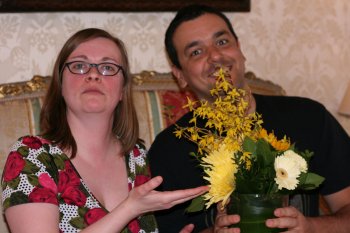 With many thanks going out to Ingeborg and film company Cinéart who convinced Joann Sfar's to come to Amsterdam for the first time and for the première of his own film a few weeks ago, here is Podcast No. 38 featuring a unique interview I managed to get with the 'puppet master' himself.
More thanks to Francois Pieneman who recorded the interview and took pics.
Find out more about the release of the film in English on Gainsbourg, le fim, le blog.
Playlist
Eric Elmosnino & Anna Mouglalis – La javanaise
Eric Elmosnino & Laetitia Casta – Comic strip
Eric Elmosnino – Parce que
Eric Elmosnino – Aux armes, etc.
Eric Elmosnino & Lucy Gordon – Le canari est sur le balcon
Subscribe to the Radio Oh la la podcast at Feedburner or using iTunes.
Come and join the Radio Oh la la group on Facebook and follow Oh la la on Twitter.
(Photo: Francois Pieneman)
Tags: Anna Mouglalis, Eric Elmosnino, Joann Sfar, Laetitia Casta, Lucy Gordon, Serge Gainsbourg