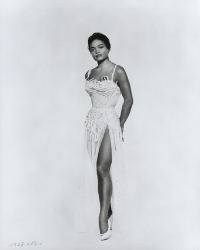 There is quite a long tradition of Americans singing in French, which includes the likes of Eartha Kitt (posing here), Nat King Cole and Blossom Dearie. Then there's also more recent numbers by April March, Nanette Workman and Dee Dee Bridgewater. Some of then sang phonetically, some of them fumbled along in French and others actually took lessons.
You guess it – all these artists can be heard on Radio Oh la la. I'm always looking for more, especially from the 50s and 60s, so if you have any tips, let me know.
2 Responses to "Americans in Paris"
George says:
August 3rd, 2006 at 11:19 pm

Oh, Blossom Dearie is wonderful….please add her, I've never heard her sing in French.

Administrator says:
August 4th, 2006 at 8:30 am

All these folks are in the playlist. I have about six songs of her in French and they are wonderful. She has other songs half in English have in French that are also delightful such as "Comment allez-vous".