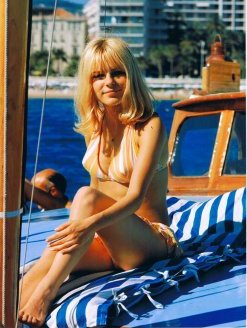 Not going on vacation? Never seen St. Tropez, let alone France or even Europe? Then this year's summer podcast is for you! Podcast No. 34 is one big vacation, with sea, sex, sun, sadness, teenage romance, small hotel rooms and expensive drinks. Pretend you're a teenager like France Gall here, sitting on a boat near Nice. Your family drags you down there from Paris every year and the boys keep trying to coax you to parties and kiss you while your sweetheart is stuck in the Canary Islands with black haired Spanish beauties in their bikinis. Life is so tough!
Playlist
Petula Clark – Voilà les vacances
Nelly Perrier – Un soir d'été
Serge Gainsbourg – Sea, sex and sun
France Gall – Le temps de la rentrée
Sacha Distel – C'est les vacances
Sheila – Pendant les vacances
Subscribe to the Radio Oh la la podcast at Feedburner or using iTunes.
Tags: France Gall, Nelly Perrier, Petula Clark, Sacha Distel, Serge Gainsbourg, Sheila