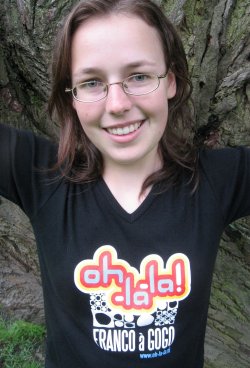 Hurray! The very first batch of Radio Oh la la T-shirts are in! Get your very own for just EUR 15 + shipping (Netherlands + EUR 2, Europe + EUR 3, International + EUR 5) (currency converter). I'll accept bank transfers and Paypal. E-mail me for details if necessary by clicking the contact button on the left.
Available in women's small and medium V-necks (small shown here by my sister) and men's round necks in M, L and XL.
The T-shirt was specially designed by Gagado and made a reality by Yes, we're open.
And thanks to Yolanthe Smit for her donation, after having heard me give a podcast workshop in Dutch to a group of Dutch businesswomen.