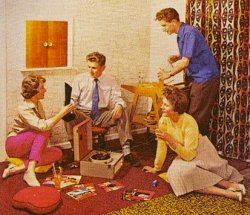 It's finally here, Podcast No. 21! Some trains, some planes and other tunes in between, this podcast is as mixed up as it gets, but in a good way, of course. If anyone out there has a request I can fulfil, drop me a note, you never know. Invite your friends over, nicely paired up and picture perfect and listen to some retro!
Playlist
Les Champions – Le train
Berthe – Les emberthements
Nancy Holloway – Elle t'aime
Brigitte Bardot – Je danse donc je suis
Gilbert Bécaud – Dimanche à Orly
Magali Noël – Rock des petits cailloux
Subscribe to the Radio Oh la la podcast at Feedburner or using iTunes.
8 Responses to "Podcast No. 21 – A request, some rock and little pebbles"