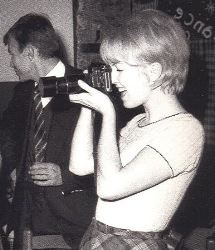 Say "fromage"! Don't worry, Podcast No. 11 is not cheesy, it's just full of covers and fun. Donald Lautrec dances the ska, while Tony Roman goes for rock n' roll. Sylvie Vartan snaps pictures and fingers, Christophe plays with puppets and Liz Brady sings to somebody else's screaming fans. In the end, Nat King Cole smoothes it all out.
Playlist
Donald Lautrec – Manon viens danser le ska
Tony Roman – C'est la vie, c'est l'amour
Sylvie Vartan – Est-ce que tu le sais ?
Christophe – Les marionnettes
Liz Brady – Palladium
Nat King Cole – Love
Subscribe to the Radio Oh la la podcast at Feedburner or using iTunes.
One Response to "Podcast No. 11 – Covers and others"
Alan says:
October 21st, 2006 at 5:15 pm

Hi Natasha, I want to congratulate you for the radio and podscats, fine ye-ye capsules and presentations!