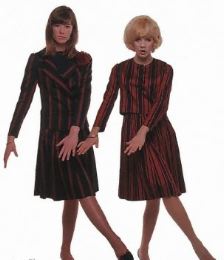 Guuzbourg of Filles Sourires fame, a blog featuring all kinds of frauleins, kindly invited me to guest blog. I was all too happy to oblige with a first piece about Dalida. Future guest blogs will include non-retro femmes of the 70s and 80s, many of which I plan to learn more about. Filles Sourires likes all kinds of girls and that's the best part.
For even more pictures of retro favourites and a visual taste of everything else, there's always Blow Up Doll.
Facing this overwhelming collection of girls, Oh la la will continue to feature Retro rogues. Let the boys write about the girls and the girls write about the boys. How very retro!