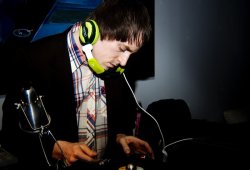 Despite bad weather, the Chick Habit party was attended by people from as far as Rotterdam (who confessed to not wanting to go home), with dance moves I don't think I've ever seen before! The long awaited Filles Fragiles CD compiled by DJ Guuzbourg of Filles Sourires fame was finally launched, a CD containing French pop music with an emphasis on female singers. A performance by Paris' Peppermoon kicked off the evening's festivities in style.
DJ Martin Hemmel from Munich's Atomic Café (shown here, focused) got the entire dance floor moving, and threw in a great new French cut on white vinyl from Munich's Phonoboy who sing in French and will be launching a new album in December. Oh, and I will go to Munich to check it all out, more on that in a few weeks.
Guuzbourg eventually went all Bossaboogie on our derrières, treating himself to French pop girls à gogo, dancing to his own DJing. I have pictures! I personally couldn't resist the uptempo temptation that haunts me, be it girl or boy.
(Photo: Yuri)
Tags: Bossaboogie, Chick Habit Party, French cuts, Martin Hemmel, Radio Oh la la
2 Responses to "Party report – French cuts and girl grooves"
Rachel says:
December 1st, 2007 at 11:05 am

It was indeed a nice party and I loved the music, groovy one.

martin says:
December 4th, 2007 at 4:39 am

thanks for the invitation! I had a great time with a great party people! Hope to see you soon!