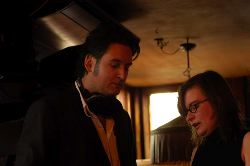 We had a happy, friendly and all around French afternoon at cafe Festina Lente. It was great to see people I hadn't seen in a while and meet new people. Guuz of Filles Sourires fame is doing so well, his blog has too much traffic!
New music on Oh La La includes a mixed bag from Claude Nougaro, Nino Ferrer, Tosca featuring Heidi Bruehl and Eddie Constantine.
Oh La La is currently listed as a 'featured favourite' on the De Blauwe Leeuw (The Blue Lion) website, the French cultural agenda for Amsterdam.
(Photo: Yuri)