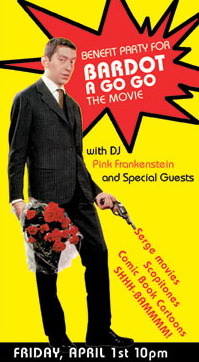 Oh la la, an agenda! Click on the left-hand side button to view this work in progress. Have any suggestions that fit the Oh La La bill? Send an e-mail at the address found under 'Contact'.
San Francisco DJ and film-maker Pink Frankenstein is still working hard at raising money to finish his feature length film about French pop music of the sixties. For a wonderful clip of things to come and more info, see French music history. His annual Serge Gainsbourg extravaganza is basically a fund raiser. You can even read about donating.
The rumours are true, but more details will follow: Jacqueline Taieb will be performing live in Amsterdam in mid April! Talk about a blast from the past.