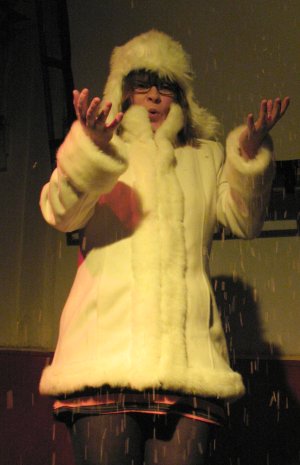 Just before the dance floor of De Nieuwe Anita was filled with people, a friend showed up with some artificial snow and I had lots of fun with it.
(More pics here (all wearing that white hat I have on!), courtesy of the birthday boy.)
I literally and figuratively warmed up the dance floor with some 60s and some cheesy numbers (Joe Dassin and Dalida), then DJ Guuzbourg joined in and got everyone all sweaty and started air guitaring. Upstairs in the foyer that was hotter than hot, Cowboy & Henk were playing the best in happy snappy French singles.
I want to personally thank the many people that always come to my parties, the people that came from far away just to party and everyone else who make these evenings a success. Without you I'd have no reason to throw a party. You kick derrière!
You can also come and join the Radio Oh la la group on Facebook
(Photo: Erik Verkoyen)
Tags: Cowboy & Henk, Erik Verkoyen, Facebook, Guuzbourg
One Response to "Oh la la winter party success!"
Jeroen Mirck says:
December 15th, 2008 at 6:27 pm

Being the Birthday Boy, I can only say it was a supa dupa party. :)