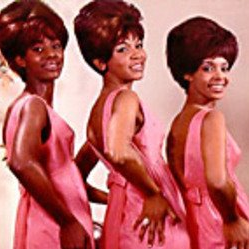 Hold the phone, it's Podcast No. 32! It was time to dig deep, to soul search and cook up a serious dish of French music with a side dish of soul. Nino Ferrer often said he wish he was black (yeah, baby), André Brasseur is simply possessed by the devil but in a good way, The Velvelettes show off their French skills Motown style, Denise Brousseau does Gainsbourg and by special request, Catherine Desmarets tries her hand at computer dating, sixties style. Oh and for dessert, Alica Dona covers an Italian classic! Yum!
Playlist
Nino Ferrer – Le Roi d'Angleterre
André Brasseur – The Duck
The Velvelettes – Je veux crier
Denise Brousseau – N'écoute pas les idoles
Catherine Desmarets – Les petites croix
Alice Dona – Stasera no no no
Subscribe to the Radio Oh la la podcast at Feedburner or using iTunes.
Tags: Alice Dona, André Brasseur, Catherine Desmarets, Denise Brousseau, Nino Ferrer, The Velvelettes
2 Responses to "Podcast No. 32 – French soul cuisine"
Gil F. says:
February 27th, 2009 at 2:41 am

Lovely!

It is so great to hear you back :)
(since a long time ago from podcast no. 31)
Thanks :)

Best wishes from Tijuana, Mexico

Gil,
(an Amsterdam lover)

Serge says:
February 27th, 2009 at 11:44 pm

great stuff!