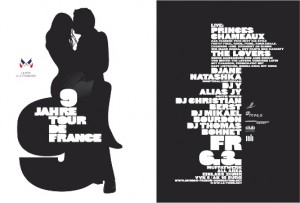 The flyer has a serious Serge Gainsbourg and Jane Birkin thing going for it!
As mentioned in the agenda, Friday, 6 March at the Café der Muffathalle in Munich, Germany, DJ Natashka (aka me) will be one of the DJs of the Tour de France, evenings that are usually held by DJ Thomas Bohnet at the Muffathalle (a huge, three venue complex) once a month.
It's their 9th year anniversary and I'm looking forward to partying!
And yes, really, Podcast No. 32 is in the works, begging me to finish it.
Tags: Muffathalle, Munich, The Lovers, Thomas Bohnet