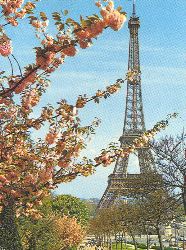 The fourth podcast of Radio Oh la la pays tribute to Paris with music kindly provided by Guuzbourg of the Filles Sourires blog. This Paris tinted podcast features music by Jacques Dutronc, Les Parisiennes, The Matthew Herbert Big Band, Les Sœurs Winchester, Yves Montand and Juliette Gréco.
Playlist
Jacques Dutronc – Il est cinq heures, Paris s'éveille
Les Parisiennes – Les Parisiennes
The Matthew Herbert Big Band – Dr Rockit
Les Sœurs Winchester – Comme des Parisiennes
Yves Montand – À Paris
Juliette Gréco – Sous le ciel de Paris
Subscribe to the Radio Oh la la podcast at Feedburner or using iTunes.
I'd like to commend Marcel of Marcel Barlag Visuals for not only playing Radio Oh la la inside his Amsterdam shop, but also outside within earshot of tourists and the cafe next door. What's more, you can have a drink there for l'apéro while maliciously watching about seven trams backed up all the way to Amsterdam Central Station.