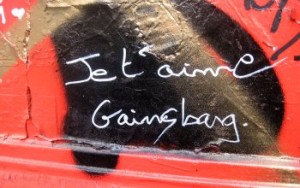 "It's like an enormous library falling down whevener you talk about Serge. There's so many references." – Guuz Hoogaerts.
Special guest star on this podcast is journalist, blogger and huge Dutch Gainsbourg fan Guuz Hoogaerts, aka DJ Guuzbourg.
In honour and anticipation of the release of the film Serge Gainsbourg – Vie Héroïque (Serge Gainsbourg – A heroic life), Podcast No. 37 features an all Serge affair, with music from the film and a selection of special songs you don't hear very often.
Playlist
Eric Elmosnino & Philippe Katerine – Je bois vs. Intoxicated man
Emily Loizeau & Jeanne Cherhal – Qui est 'in', qui est 'out'
Alain Chamfort – En relisant ta lettre
Serge Gainsbourg – La noyée
Serge Gainsbourg – Evgénie Sokolov
Serge Gainsbourg & Eddy Mitchell – Vieille canaille
If you want more exciting up-todate info about the film in English, be sure to check out Gainsbourg, le fim, le blog.
Subscribe to the Radio Oh la la podcast at Feedburner or using iTunes. Radio Oh la la also has a MySpace page.
Come and join the Radio Oh la la group on Facebook and follow Oh la la on Twitter.
Tags: DJ Guuzbourg, Eddy Mitchell, Emily Loizeau, Eric Elmosnino, Jeanne Cherhal, Philippe Katerine, Serge Gainsbourg