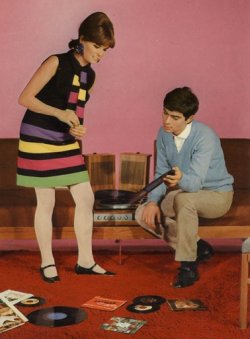 I don't like the way they treat their records, but that's why we have podcasts nowadays! Speaking of which, Podcast No. 28 is full of stories and music being treated with love and care. I threw in an extra song because it's been a while. In the mean time, the grooviness has been piling up, so you'll never go hungry!
Playlist
Henri Salvador – Rock and Roll-mops
Jacqueline Taïeb – On roule à 160
Johnny Hallyday – Noir c'est noir
La 4e volonté – CÉGEP blues
Michel Legrand – Marins, amis, aimants ou maris
Bonus track: Brigitte Bardot – C'est une bossa nova
Oh and the music in the mix of the Win a Radio Oh la la T-shirt contest in the previous podcast was the following:
1. Claude Nougaro – Les Don Juan
2. Richard Anthony – Nouvelle Vague
3. Michel Legrand – Di-Gue-Ding-Ding
4. Françoise Hardy – J'suis d'accord
5. Alice Dona – C'est pas prudent
6. Anna Karina – Roller girl
7. Jacques Dutronc – Les Cactus
8. Jacqueline Taïeb – 7h du matin
Subscribe to the Radio Oh la la podcast at Feedburner or using iTunes.
Tags: Alice Dona, Anna Karina, Brigitte Bardot, Claude Nougaro, Henri Salvador, Jacqueline Taïeb, Jacques Dutronc, Johnny Hallyday, Michel Legrand, Richard Anthony