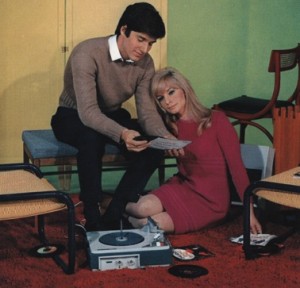 We have it, it's here and it's all yours: Podcast No. 33!
A big thanks to Insult Masterrr! an iPhone application that made a generous donation to this podcast.
Link to Insult Masterrr! via iTunes,
Insult Masterrr!
And feel free to read a nice blurb about me and this podcast by Meribeth Deen, a Canadian journalist living in London. Cheers!
Playlist
The Madd – Je suis parti
Les Mersey's – Si tu m'aimes
Jacques Dutronc – J'ai un tigre dans ma guitare
Françoise Hardy – Je suis d'accord
Les Serfs – Mademoiselle yéyé
Teddy Scholten – Un petit peu
Subscribe to the Radio Oh la la podcast at Feedburner or using iTunes.
Tags: Eurovision, Françoise Hardy, Jacques Dutronc, Les Mersey's, Les Serfs, Teddy Scholten, The Madd