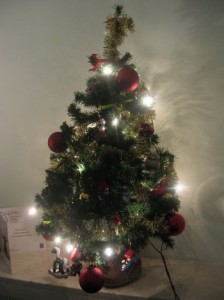 Joyeux Noël et Bonne Année ! Merry Christmas and Happy New Year!
Thanks everybody for your support and help this year!
And here it is, the last podcast of the year and it's all yours right in time for Christmas! Podcast No. 36 has some jingling bells sung by Québec bands, a French band and an Englishwoman who made France her home. I'm off to cook and bake now!
Playlist
Tony Massarelli – Cette nuit les clochent sonnent
Ginette Reno – Vive le vent
Les Chaussettes Noires – Noël de France
Les Classels – Le sentier de neige
Petula Clark – Mon beau sapin
Danièle et Michèle – La neige sous mes pas
If you want more French Christmas songs or funky, dirty, sexy, odd, funny ones sung in all kinds of ways, check out Christmas a gogo, where I've contributed this year along with many cool bloggers from around the world.
Subscribe to the Radio Oh la la podcast at Feedburner or using iTunes. Radio Oh la la also has a MySpace page.
Come and join the Radio Oh la la group on Facebook and follow Oh la la on Twitter.
Tags: Danièle, Ginette Reno, Les Chaussettes Noires, Les Classels, Petula Clark, Tony Massarelli