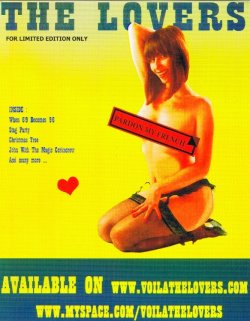 Although the show was on a Sunday, had to be moved at the last minute while I was away celebrating Oktoberfest in Munich and was kinda of quiet, the mood was that of a huge group of friends getting together and partying! The Lovers got the blood pumping around the room, DJ Guuzbourg went all girl crazy, while DJ Natashka (me) cut it every now and then to crank the yé-yés up.
Actual pics of the show are coming up! I also want to thank everyone who let met borrow stuff for the show that the club did not have. I couldn't have pulled this off without you!
And The Lovers' new album, Pardon my French will have a sticker on it, old skool. Sexy!
Tags: Amsterdam, DJ Guuzbourg, DJ Natashka, The Lovers