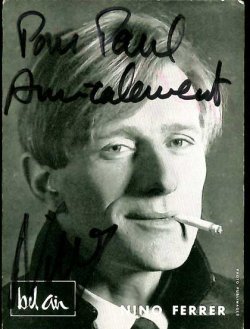 Yes! French funk and soul does exists and not all of it is a watered down version of some Motown hit. The proof is in Podcast No. 39, compiled by yours truly with some extra spice added in by Guuzbourg over at Girls and Giggles (Filles Sourires).
Some of the songs here may have been featured before, that is a first, but some things are definitely worth repeating. As well, some of the songs here are more recent, but their soulfulness is unquestionable.
Playlist
Gil Now – Dis-le moi
Eddy Mitchell – Vieille fille
Sévérine – Je suis la même
Claude François – Un homme libre
Ben L'Oncle Soul – Demain j'arrête
Nino Ferrer – Je veux être noir
Subscribe to the Radio Oh la la podcast at Feedburner or using iTunes.
Come and join the Radio Oh la la group on Facebook and follow Oh la la on Twitter.
Tags: Ben l'Oncle Soul, Claude François, Filles Sourires, funk, Gil Now, Guuzbourg, Jenny Rock, Nino Ferrer, Sévérine, soul