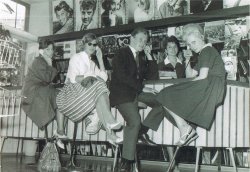 Bam, bop, whizz! The music will get you dreaming, dancing, swinging or just snapping your fingers. So go to your happy place like I do where the bar is stocked, the people are beautiful and the music is brought to you by Podcast No. 29, which took way too long, I know! I will make it up to you all soon, but for now, be cool and get ready to shake yourself or a drink.
Playlist
Les Terribles – Tu l'as voulue
Dany Brillant – Comme le jour et la nuit
Minimatic – Chez les yé-yés
Valéry – Vous dansez mademoiselle
Ria Bartok – Tu peux pas savoir
France Gall – Les sucettes
Subscribe to the Radio Oh la la podcast at Feedburner or using iTunes.
Tags: Dany Brillant, France Gall, Les terribles, Minimatic, Ria Bartok, Valéry