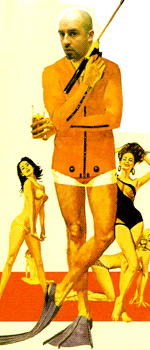 On Friday 27 November, not only is Minimatic coming back to town to spin his wild and crazy French tunes as well as his own floor fillers, but we're letting the man spin what he spins best: sexy, sultry and suave French erotica. And it's about time, too! Watch out for an enticing and exciting slide show back when sexy was real and not made of plastic.
Born in Nice, raised in Paris and living in Cognac Minimatic can be found on countless lounge, jazz, remix and what not compilations. His first three singles sold like hot cakes and he knows exactly what DJs want to play because he's also in their shoes. Christmas has come early (pardon the pun!) and yours truly Natashka will warm up the place (pardon the pun!) at the one of the hottest places in Amsterdam, De Nieuwe Anita.
Yours truly we be working the crowd and DJ La Formule du Baron from Nijmegen will be warming up people's cognac in the foyer!
Tags: De Nieuwe Anita, DJ Natashka, La Formule du Baron, Minimatic