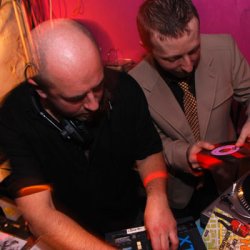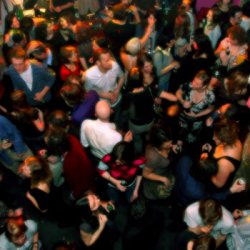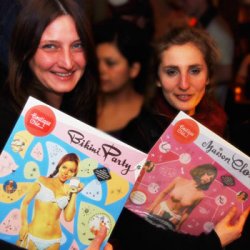 The Boutique Chic party was a total blow out! After DJ Guuzbourg warmed them up in the dance hall, he handed the torch over to Boutique Chic's Thomas (aka Georges) Deligny and Minimatic (shown here) who got the whole place hot and sweaty. For once I didn't mind having to squeeze through people to get to the DJ booth!
Not only did these great guys keep it going, but the Boutique Chic mini-kiosk sold some LPs and CDs you cannot get anywhere in stores in the Netherlands – well not yet. Talk about exclusive! In the quieter yet just as full foyer of the De Nieuwe Anita, DJ Natashka (me again) was asked to tone it down (which was tough) to get people moving towards the dance floor. For the rest of the evening, DJ Guuzbourg kept people very warm and happy as well.
The after party involved lots of champagne, people not wanting to leave and, well, more champagne. Until next time!
(Photos: Jan Rutten)
Tags: Boutique Chic, De Nieuwe Anita, DJ Guuzbourg, DJ Natashka, Minimatic, Thomas Deligny